Increase your direct bookings with a booking engine, commission-free.
Turn website visitors into paying guests with a customisable booking engine. Offer guests a modern direct booking experience with seamless payment processing and capitalise on commission-free bookings! 
Boost direct bookings, eliminate commissions
We empower hoteliers with a booking engine that's customisable and ready to connect to your website – zero added commissions.
Process seamless online payments 24/7
Process pre- or full payments right through our booking engine. Payments are quick, secure, and powered by Peach Payments.
Maintain accurate rates
and availability
Keep your reservation calendar synced across all channels to accurately display your rates and availability and easily manage rate parity.
Provide the fastest, smoothest direct booking experience
With real-time availability and a seamless 5-step booking process, guests can enjoy a consistent, personalised brand experience that tops OTAs.
The guest selects the dates for their stay and provides the number of accompanying guests.
The guest views available rate plans based on the provided details and selects the most suitable room.
The guest can also conveniently choose to include add-ons to elevate their stay.
Before completing the booking, the guest can view a preview of their cart, which includes all the added charges.
After selecting "book now," the guest is directed to a secure payment page to complete the payment process.
More exciting tools to level up your operations. Set up your property for success with tools and features that drive better-performing businesses and guest engagement.
Multi-property booking engine
Show your availability across multiple
properties from a single screen.
Showcase all your properties on a single booking engine page. The convenient dropdown menu lists your property locations, maximising occupancy across your entire portfolio.
Spotlight your direct booking rates.
The nifty price comparison widget shows your active rates on popular booking channels (Booking.com, Expedia, Agoda, and Airbnb). This way, guests know they're getting your best deal directly.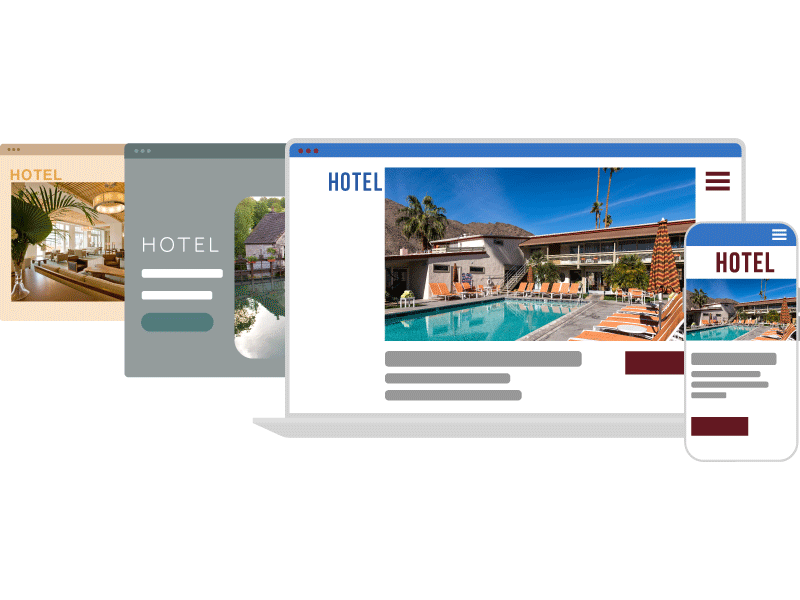 Build & publish your website effortlessly.
RoomRaccoon's hotel website builder allows you to customise one of our stunning hotel-tailored templates to quickly and easily get your website live. Explore our range of services available.
White-Label Booking Engine
Maintain a consistent brand experience.
We offer white labelling services to remove RoomRaccoon branding from the booking engine and all associated documents so you can create a brand-centric booking experience.
Actively encourage direct bookings with revenue-generating features.
RoomRaccoon's booking engine not only captures online bookings but actively boosts direct bookings through a range of features engineered to turn lookers into instant bookers.
For a quick price comparison, display your rates on booking channels like Booking.com, Expedia, Agoda, and Airbnb. Potential guests will know they are getting the best deal without window shopping.
Activate discount codes redeemable through the online booking engine. Promote the offer on your website to encourage direct bookings.
Provide added value for direct bookers by offering add-ons like a bottle of wine or spa treatments. Add-ons are bookable through the booking engine.
Enjoy the freedom to promote custom rate plans and package deals that work for your property, like breakfast rates, early-bird rates, Valentine's Day packages, and more.
Sold out for a particular date range? Our hotel booking engine automatically suggests the closest alternative dates to increase your direct booking conversions.
Group bookings & negotiated rates
Do you work with third parties like travel agents or wedding planners? Make booking negotiated rates easier by sharing a custom booking engine link with our Room Allotment feature.
Buff & Fellow utilises add-ons within their booking engine to provide guests with added value and increase revenue.
Personalise communication
Wow your guests with instant confirmation emails that include all the important booking details. Personalise the template to match your brand.
Treat returning guests like VIPs by showing their preferred rates and preferences matched to their profile and auto-fill guest details to expedite the booking process.
RoomRaccoon's Booking Engine Benefits
Increase your mobile conversion rates with our responsive booking engine design that adjusts to smartphones, tablets, and other smart devices.

Track e-commerce conversion
Add tracking codes to the booking engine to track session and conversion rates on your website through Google Analytics and Facebook Pixel.

Maintain rate parity with the help of our integrated channel management software, which allows you to quickly and easily update pricing per channel.
Accommodate international travellers
The RoomRaccoon booking engine features a language and currency converter, creating a familiar booking experience for all prospective guests.
Booking engine appearance
and booking conditions
Customise your booking engine colours, font, and logo.

Upload room photos and descriptions.

Select the languages that you would like to be available.

Set your payment conditions: pre-payment, full amount, or payable during online check-in.

Customise the guest information fields by selecting the details you need.
A single platform to increase revenue, streamline operations & delight guests.
FAQs About Booking Engines
1
What is a booking engine?
A booking engine is software on a hotel's website that captures online bookings. An online booking page typically consists of a date picker that allows potential guests to select their preferred dates and then shows the hotel's rates and availability for the selection. It also displays room photos and descriptions along with in-room amenities. With this tool, guests can easily make payments online, and the system will immediately confirm their booking by sending a confirmation email. This ensures that the booking process is quick and hassle-free for guests and property managers. Additionally, the booking engine will communicate with your
property management system
or
reservation software
to update availability in real-time. This means you can easily avoid double bookings and keep track of your inventory.
2
Why do I need a booking engine?
Accommodations like
independent hotels
,
hostels
,
lodges
,
B&Bs
, and
serviced apartments
without bookable websites are leaving money on the table. Having a website without a booking engine is like owning a restaurant with a beautifully designed menu but no tables for customers to sit and order their food. You've showcased your offerings and made potential diners hungry for what you serve, but without the ability to take their orders and reservations, they'll end up leaving and going elsewhere to satisfy their appetite. Modern travellers expect the instant gratification of online self-service. They desire the ability to swiftly check rates and availability without the hassle of filling out online query forms and waiting for responses. This desire for quick access to information is a key reason behind the popularity of
Online Travel Agencies (OTAs)
among travellers. Finally, acquiring new customers is one of the most expensive aspects of running a hotel. It makes sense to leverage every sales channel, including your website, by equipping it with a powerful booking engine that gives you a competitive edge.
3
What are the advantages of using booking engine software?
These are the five advantages of utilising a state-of-the-art booking engine:
Integration with Property Management Systems (PMS): Easily integrate with a Property Management System (PMS) to automate your room allocation, manage inventory, and receive real-time updates.
Discount Codes & Rate Comparisons: Enable promo codes and rate comparisons to encourage prospective guests to book directly.
Commission-Free: Ensure that your booking engine provider does not take a cut of your direct booking revenue.
Upsell Capabilities: Enhance your guests' experience and increase revenue by offering them the option to include add-ons to their booking.
Dynamic Pricing: RoomRaccoon's Yield Manager allows automatic rate optimisation based on market demand.
4
What are the key features of a booking engine?
Here are the 10 key features of a modern hotel booking engine:
User-Friendly Interface: An intuitive and easy-to-navigate online booking page for users to search, select, and book accommodation in 5 quick steps.
Mobile Responsiveness: A responsive booking engine that responds to various screen sizes and works smoothly on smartphones and tablets.
Online Payment Processing: Secure payment processing with the option to take pre-payments or full payments at the time of booking.
Real-Time Availability: Provide up-to-the-minute availability information, ensuring prospective guests can see current occupancy and rates.
Multi-Currency, and Language: Cater to a global audience by offering language options and displaying prices in multiple currencies.
Discount Codes & Rate Comparisons: Enable promo codes and rate comparisons to encourage prospective guests to book directly.
Commission-Free: Ensure that your booking engine provider does not take a cut of your direct booking revenue.
Upsell Capabilities: Enhance your guests' experience and bring in additional revenue by offering them the option to include add-ons to their booking.
Dynamic Pricing: RoomRaccoon's Yield Manager allows for automatic rate optimization based on market demand.
Integration with Property Management Systems (PMS): Seamlessly connect with a PMS for automated room allocation, inventory management, and real-time updates.
If you want to avoid a complex tech stack that can result in more frustration, consider using an all-in-one hotel management system like RoomRaccoon. RoomRaccoon's Property Management System (PMS),
Channel Manager
, and Booking Engine are engineered with compatibility in mind and are fully integrated into a user-friendly platform.
5
How much does a booking engine cost?
The RoomRaccoon booking engine is fully integrated into our
hotel management platform.
. This subscription includes our all-in-one Property Management System (PMS), Channel Manager, and Booking Engine for a monthly or discounted annual fee. The Entry Package starts at R2000 per month based on 18 rooms. Discover our range of
subscription packages.
and upgrade features.
Hotel Booking Guide: A Guide To More Direct Bookings
Customise your hotel booking engine to match your website. Select colours, upload photos of your rooms, and insert your logo for a seamless user experience. You can select preferred booking conditions like 50% pre-payments and the required guest information fields.